Every craftsman and artist at the very moment in which they focus on the creation of an artwork become a metaphor for the primordial creative act, that of genesis."
Albano Poli

SAINT GERTRUDE - BRONZE SCULPTURE
Born in 1256, Saint Gertrude of Helfta was a German mystic and Benedictine nun. According to the National Catholic Register, Gertrude was 24 when she had her first vision of Christ, which led her to focus on prayer and the study of holy scriptures and theology.
The cemetery and mausoleum is dedicated to this saint and the statue created by Master Albano Poli is the result of a long process of study and research. Even before making the sketch, M° Poli studied and admired her strength, the loneliness of a life spent in prayer, the firmness of her faith especially during her continuing illness.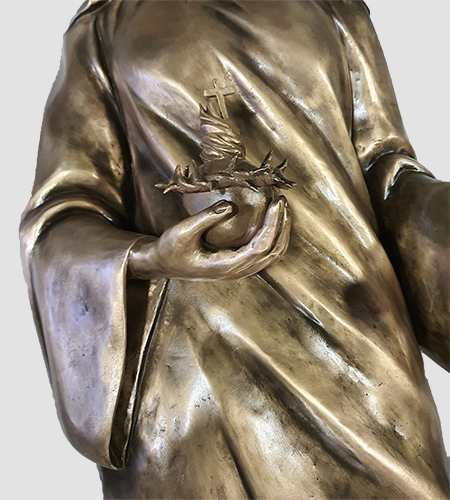 Detail of the sculpture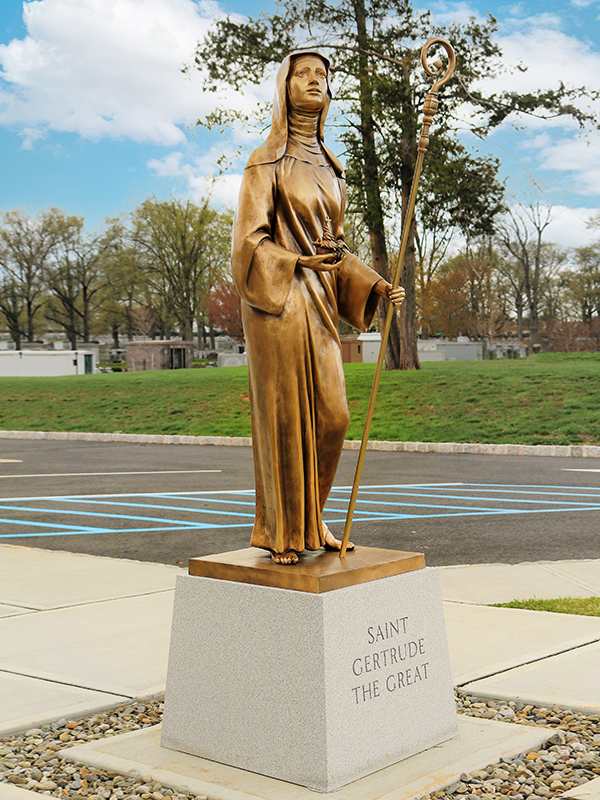 Saint Gertrude, patinated bronze sculpture created by Progetto Arte Poli with the lost wax casting technique. Height 170 cm (5'7'')
The definition of details is what characterizes this artwork, as can be appreciated especially in the richness of details of the sacred heart of Jesus, and the contemplation expression of the Saint, which we can imagine when she witnesses the divine apparition for the first time.

Hand-sketch of the artwork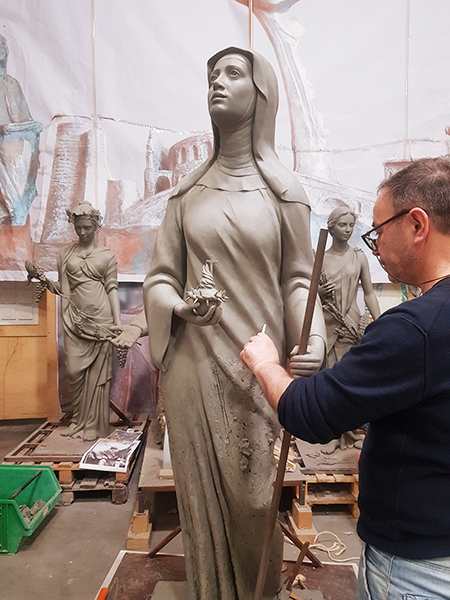 Real size clay model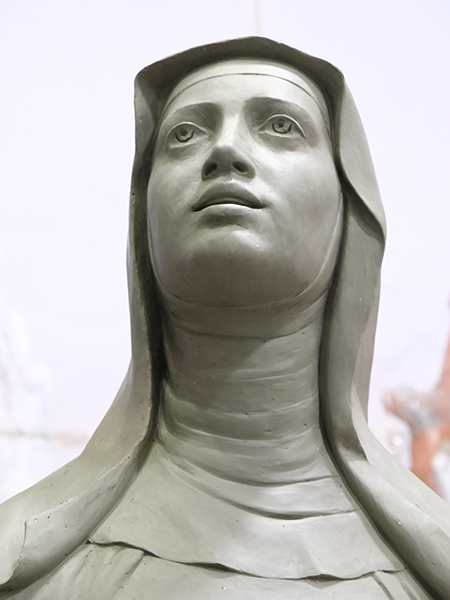 Detail of the clay model's face expression
MARBLE ALTAR WITH BRONZE SCULPTURES
Altar made in Breccia Pernice marble extracted from Pastello mountain (Monti Lessini – Verona, Italy ) with bronze sculptures. The sculptures depict the Virgin Mary and the Twelve Apostles during Pentecost.
Each Apostle is clearly recognizable thanks to the symbol each one holds in his hand and is characterized by extreme realism. Positions, movements, facial expressions make the Apostles "real" and enhance the dynamism of the work as a whole.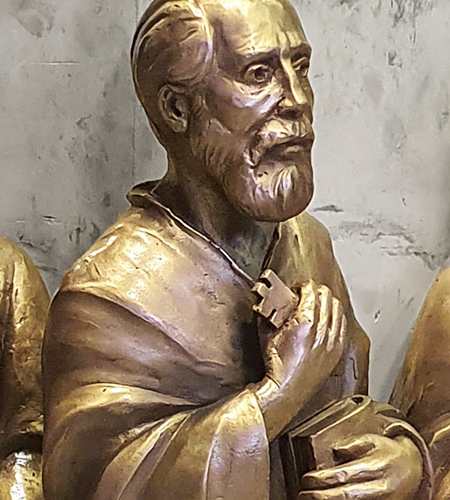 Detail of the sculpture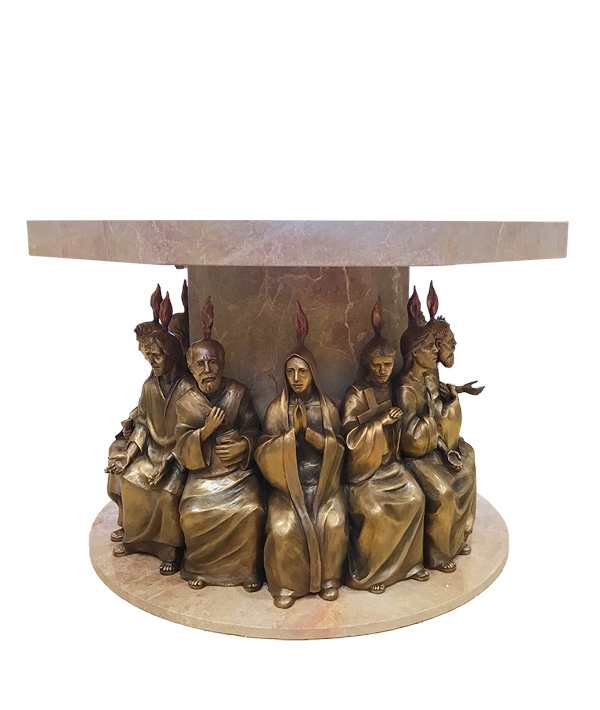 Mary and the Twelve Apostles, bronze sculpture created by Progetto Arte Poli with the lost wax bronze fusion technique.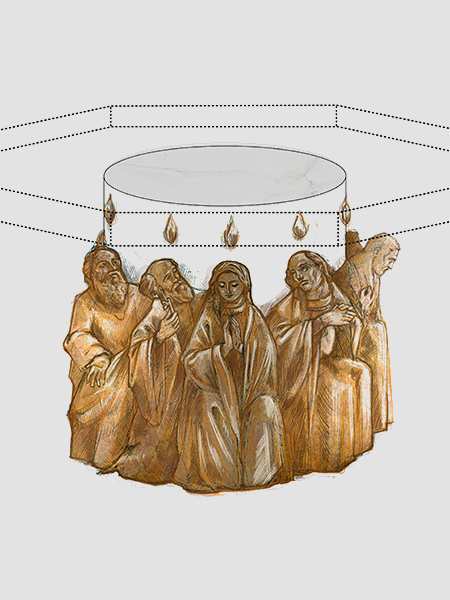 Hand-sketch of the work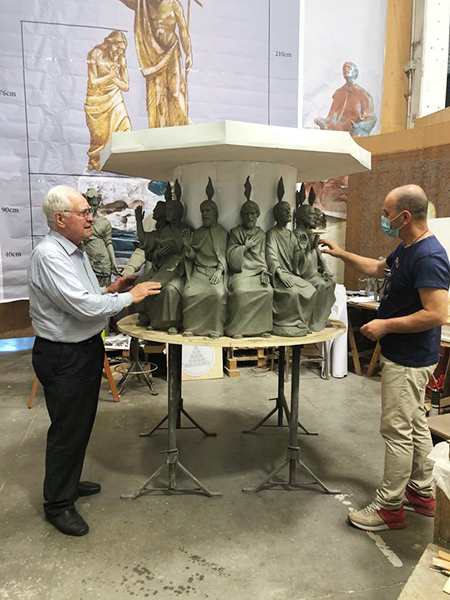 Clay model
Detail of the artwork during production
Memorial Day Mass &
Dedication of St. Gertrude Cemetery Chapel Mausoleum of the Resurrection
Cardinal Joseph W. Tobin, C.Ss.R., Archbishop of Newark, celebrate a Mass commemorating Memorial Day within the new Chapel Mausoleum of the Resurrection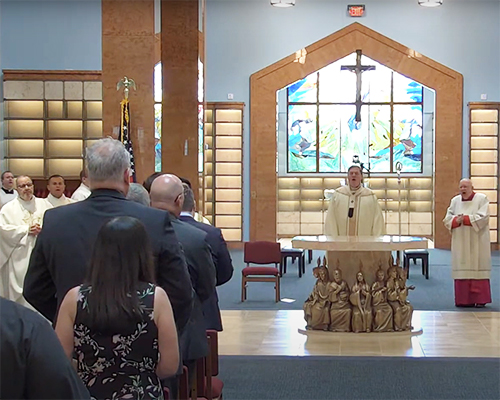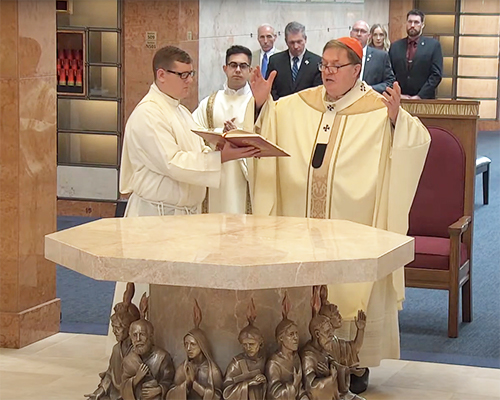 BAPTISM OF JESUS - BRONZE SCULPTURE
This artwork is characterized by the path of water. This symbolic element that unites St. John the Baptist to Jesus is made with the insertion of glass parts in the bronze itself. Water connects the hand of St. John the Baptist with the head of Jesus, continuing into the stone - which represents the land of the people of God - ending in the Jordan River, recreated through a bronze band that surrounds the sculptural work.


Baptism of Jesus, patinated bronze sculpture created by Progetto Arte Poli with the lost wax casting technique. Heigh 210 cm, 7'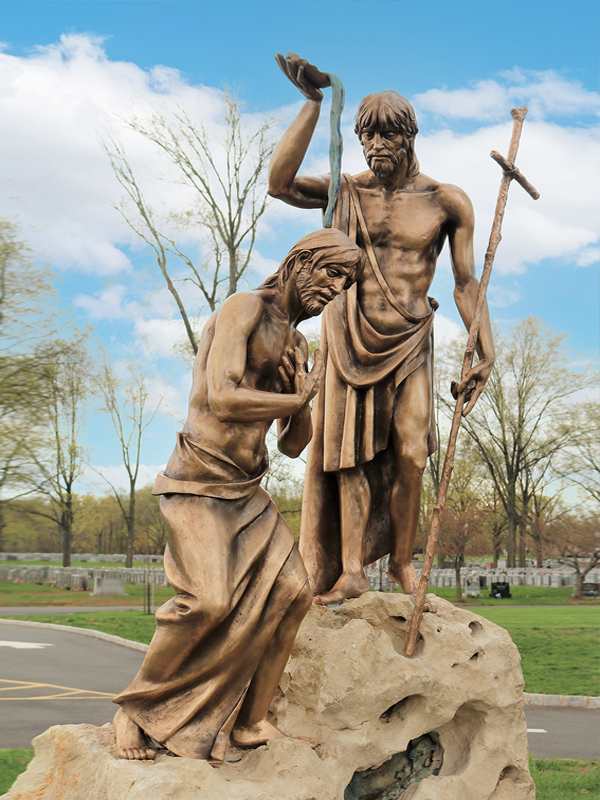 LIGHT ARCHITECTURE: THE ASCENSION OF CHRIST
The stained glass window of the Ascension of Christ welcomes visitors at the entrance to the mausoleum. Made of decorated mouth blown glass, it is embellished with grisaille painting. The lead binding enhances the chromatic backgrounds and emphasizes the dynamism of the scene.


Ascension of Christ - Stained glass window - cm 360x480H (approx. 12' x 16' high)

HOW AN ARTWORK IS CONCEIVED
For further information or to discuss a project
CONTACT US